October 30, 2023
Ayesa emerges as Spain's best IT service provider
Ayesa, the global engineering and technology group that includes Ibermática, has cemented its position as Spain's leading IT service provider. This comes after the publication of the prestigious report IT Sourcing 2023 by Eraneos and Whitelane Research, which ranks Spain's 25 leading IT service providers and technology firms.
Results are based solely on the information provided by their clients (285 in total), which come from both the private and public sector.
This year, Ayesa has achieved 84% for overall customer satisfaction. This is the highest of any provider and represents a 3% increase compared to last year, a clear reflection of the company's unfaltering commitment to excellence. This is also higher than the top score achieved in many other countries where the study is carried out.
Although Ayesa has obtained some of the best scores amongst providers since the annual report began in 2013, it is not until now that it has also ranked top for all the specific services analysed. As such, this year it is the undisputed leader in digital transformation, applications, cloud and infrastructure, workplace services and cybersecurity.
In terms of the other KPIs included in the study, Ayesa has scored well above average. These include sustainability, customer management, prices and transformative innovation.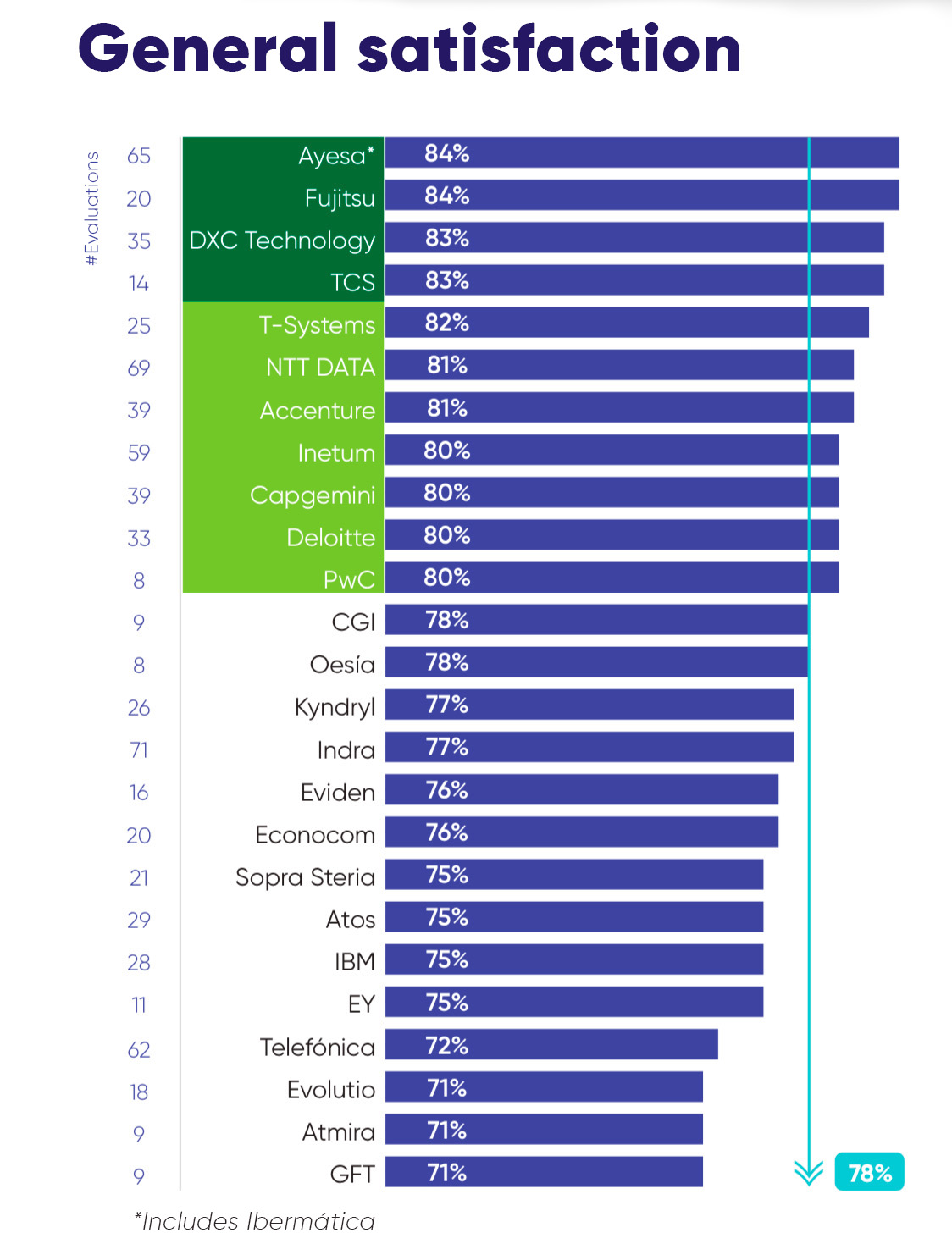 Source: IT Sourcing 2023, Enareos and Whitelane Research
Leading the rankings for all services
Ayesa has ranked number one for each of the five types of services included in this year's report. These are:
Digital transformation: this covers the implementation and deployment of new apps and business platforms, such as SAP and Salesforce, as well as journey-to-cloud processes, digital ecosystems, customer experience, data analytics and AI.
App services: this includes the development of applications using DevOps, Scrum and Waterfall, as well as their corrective, adaptive and perfective maintenance.
Cloud and infrastructure: this covers maintenance, integration and support services for data centres. It encompasses both on-premise and off-premise infrastructure management, IaaS and PaaS, and includes cloud and hybrid environments as well as cloud orchestration.
Workplace services: Ayesa has excelled in creating digital workplaces, something that has been underpinned by a commitment to cybersecurity. This includes services provided by its security operation centres (SOC) as well as automated solutions to prevent attacks.
Ayesa is committed to offering its clients the specialised solutions they need in IT, allowing them to grow and innovate. This sees it transform and improve their services and processes in order to maximise the efficiency of their core business operations.